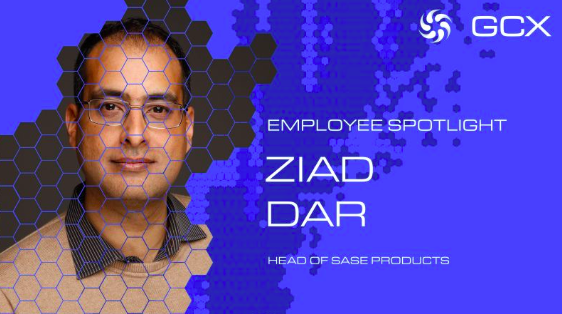 Can you tell us a bit about your background and how you came to join GCX?
Where to begin? I grew up during the electronics and video gaming boom! The first game I ever played was Pong, and I owned the first ever Sony Walkman which did not have a rewind button. So you can say I was always interested in technology.
During the 90s, I passed the Microsoft MCSE+I (I for Internet) certification and was immediately hired by an internet startup company. All was going well until the Dot.com crash, and then joined Vanco (formally known as GCX) in 2002. I left GCX in 2018 to work for one of my customers and experienced the financial vertical, learned much from a customer's perspective, and then rejoined GCX in 2021!
What motivates you in your role at GCX, and how do you stay inspired?
Without a doubt the technical problem solving keep me motivated and inspired. I have worked on over 100 customer networks and every single customer network was unique from design to operations. This sometimes meant solving easy to master level technical problems; whether thinking on the spot, configuring hands-on during a C-level call, or through a weekend of investigation and innovation – everyday is different and a learning day at GCX. The best part is always of course seeing the customer satisfied and celebrating with my colleagues!
Could you share a specific project or achievement that you are particularly proud of during your time at GCX?
During my first stint at GCX, Tyco! Tyco is a security systems company, you know those Yellow boxes installed on the outside of homes? Well that's an alarm system, which means Tyco is a blue light – emergency – service, and as a result their network requirements and solutions had to be of the highest grade possible because the loss of a network packet was literally a matter of life or death! Tyco network was a global network, involved MPLS, Internet, L2 P2P, Firewalls, Routers, Switches, with 2 objectives – latency guarantees and 99.999% uptime! I learned more while working on the Tyco network than on any other customer network I ever worked on.
During my 2nd stint at GCX (post 2021), it would be the Isola solution. Isola were up for a contract renewal, and what started off as a refresh of their existing MPLS/Internet network of 10 years, ended up being a 12 month consultancy leading to the latest network/security solution based on SASE (GNSX). This was huge, as Covid changed the world we at GCX were so proud of the Isola solution, as was the customer, with a next generation network/security solution, and our first ever GNSX customer!
How do you approach challenges and overcome obstacles in your work?
Reverse engineering was my go to process when approaching technical challenges, though the reality was sometimes very simple, it was to leverage my relationship and knowledge with the customer. I have lost count on the number of times I would have meetings with a customer, mostly over the phone, but frank and honest discussions with the customer, including whiteboard session, lead to faster resolutions, and more importantly helped build trust which of course paid dividends in the long run.
As for obstacles, well, depends. If I hit a technical road block, I would reach out to my colleagues. If there a process obstacle, then my colleagues and managers would tell you that I would sometimes go rogue! I got into trouble a few times, but it was worth it in the end, especially when the customer would send a commendation!
What role do your colleagues and team members play in your success at GCX?
The play the most fundamental role – being there for me. I can have a good day, bad day, and ugly day, but one thing I know is that I can reach out to my colleagues for whatever reason and they are always there to support me. Whether it's helping me understanding something technical, or helping me with a process, or simply giving me advice on my professional or private life. It is an old cliché that the people make GCX, but after nearly 20 years at GCX, my colleagues and team members are my second family!
Are there any mentors or individuals who have had a significant impact on your career here?
Balvinder Chahal. I started working with him in 2002, and he is one of the original CCIEs, and this was back in 2002! He was (and is) the oracle of networking. I didn't need text books, or course work, just working with Bob was enough. His calm and collective approach to technical challenges also helped me develop my character. 20 years on, we're still working together, and this time on SASE, where the rolls have kind of reversed, where I am now teaching him about SASE!
How has your role evolved since you joined GCX, and how have you grown as a professional?
Great question. So in 2002 I started as a Project Implementation Engineer, since then my role changed to Solution Architect, Customer Design Authority, Technical Consultant, and then Senior Technical Consultant. I rejoined as a Senior Technical Consultant but GCX was reinviting itself from 2021 and a new Product Team was created. I applied for the SD-WAN & SASE product manager role, and have been in the role since!
So in essence I started off in a very technical background, then moved into sales, and am now defining products. The big difference now is I am leading Products/Projects and in the process defining the future strategy of the company. Very different from 20 years ago when I was installing routers/networks at customer sites!
What advice would you give to new employees or those aspiring to excel in their careers at GCX?
Have fun and never be afraid to say "I need help."